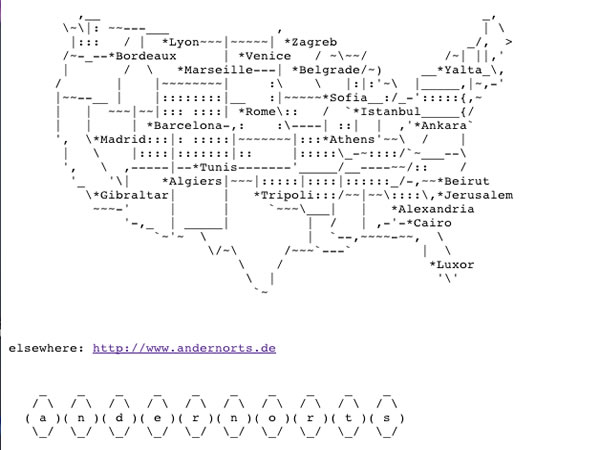 andernorts - elsewhere
Online Exhibition.
andernorts - elsewhere
www.andernorts.de (Site is down)
2000

Mario Hergueta set up an Internet page under www.andernorts.de where the whole event "Am ORT" (organised by the German Artists association "Deutscher Künstlerbund") was presented. The site was a forum and the interface between the regional event and the rest of the world. Nineteen international artist who dealt with the internet medium were invited by Hergueta to create a piece of network art for "andernorts". In doing so, the artists should restrict themselves to one single web page each of which should be the homepage for andernorts.de. These works were loaded before the visitor reached the project page.
The pages were randomly selected, so that the visitor came across a new piece of net.art each time they visited the site.
artists "there":
invited by kuenstlerbund e.v.:
Thomas Bernstein, Düsseldorf (D) Daniel Bräg, München (D) Stefan Demary, Düsseldorf (D)
Herbert Egl, Stuttgart (D) Jo Heijnen, Madrid (E) Mario Hergueta, Mainz(D) Monica und Bernard Hubot,Lustin (B) Ellen Hyllemose, Kopenhagen (DK) Sigrun Jakubaschke, Hamburg (D) Ivan Kafka, Prag (CZ) Susanna Kallisch, München (D) Peter Martensen, Hellerup (DK) Vittorio Messina, Rom Italien Julia Neuenhausen, Berlin (D) Peter Pommerer, Stuttgart (D) Werner Reiterer, Wien (A) Yvonne Rothe, Mainz (D) Judith Samen, Düsseldorf (D) Jan Schmidt, Frankfurt (D) Isabel Schmiga, Berlin (D) Renata Stih & Frieder Schnock, Berlin (D) Nicola Torke, Hamburg (D) Jean-Pierre Uhlen, Limoges (F) Barbara Wille, Berlin (D) Piotr Zamojski, Düsseldorf (D)
artists "elsewhere":
invited by mario hergueta
Lew Baldwin, USA FAKESHOP, USA Valery Grancher, F Yael Kanarek, USA Takuji KOGO, JAPAN Tina LaPorta, USA LFOUNDATION, NL Gerhard Mantz, Germany Antonio Mendoza, USA Messieurs Halgand, F mi_ga, Lit Mouchette, NL Jogchen Niemandsverdriet, NL PAVU.COM, Teo Spiller, US SPIV, Germany ZDEN SK
Publication:
Workshop, Künstlerhof Buch, Berlin (2000): Thomas Bernstein, Stefan Demary, Jo Heijnen, Mario Hergueta, Ivan Kafka, Vittorio Messina, Julia Neuenhausen, Nicola Torke Barbara Wille u.v.a.; hrsg. v. Deutscher Künstlerbund e.V.; mit Textbeiträgen von Claudia Busching und Thomas Huber (deutsch/englisch)
20,5 x 15,5 cm, 300 S., 120 Farbabb., Broschur
ISBN 978-3-934823-22-8
www.revolver-books.de/w3NoM.php